What if all the services you needed as a family were available at your child's school?
With Community Schools, this idea becomes reality.
Community schools are part of our Square One Approach to strengthen schools and end poverty for local families. They are designed to support all aspects of a child's life by serving as neighborhood hubs to strengthen families and improve community health.
Remaining in their neighborhood, families have convenient access to health care, mentoring, expanded learning programs and adult guidance in a nurturing environment.
Although most share a similar framework, no two community schools are exactly alike because they are informed by the needs and voices of their unique communities.
Shared outcomes in community schools across the country include:
decreased chronic absenteeism,
higher graduation and college enrollment rates,
and increased academic achievement.
Starting At Square One
Washington Unified School District
We are partnering with Washington Unified School District in West Sacramento on two Community Schools.
What makes a school a

community

school?
Shared Leadership: At every stage of this process, we will seek to highlight the diverse voices in our community, and meaningfully engage as many stakeholders as possible. This allows us to create the authenticity and accountability necessary for these to truly be community schools.
Integrated Student Supports: These are the crucial mental, physical, and academic supports, which are provided through a trauma-informed lens, thus helping break down barriers to students fully thriving and reduce the burden on parents and teachers.
Family & Community Engagement: By strengthening existing community partnerships, exploring new ones, and improving access to community resources we ensure we are leveraging all that the community has to offer.
Expanded Learning Opportunities: We will facilitate environments for collaborative learning and critical thinking by expanding before, after, and summer school programs that focus on student voice, job, and life-skills development.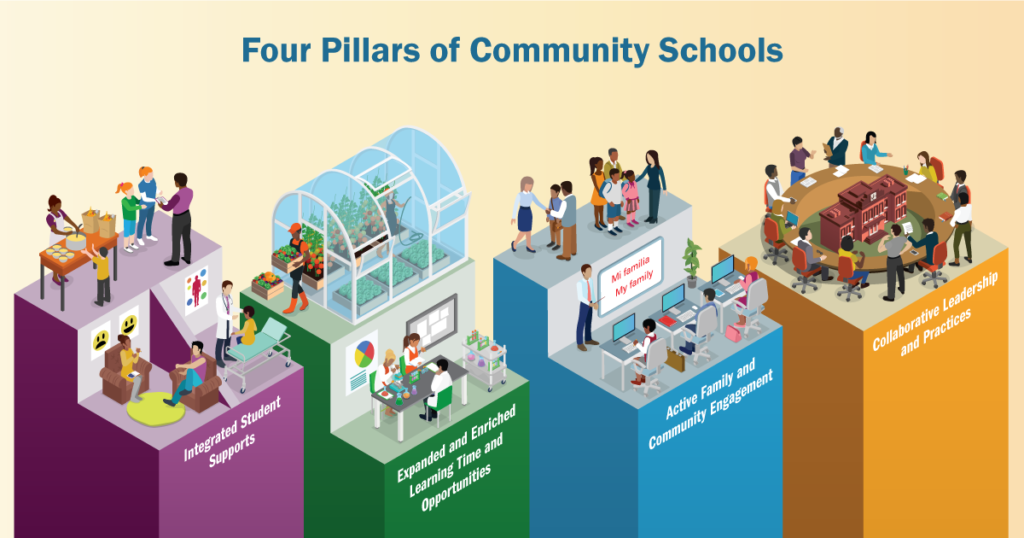 Additional Learning Resources